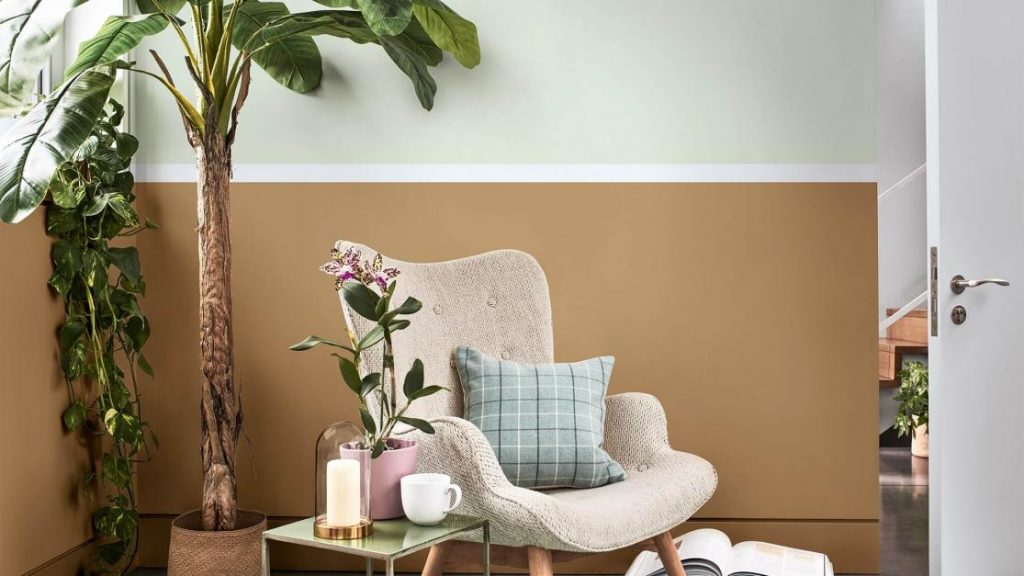 The Dulux Colour of the Year 2020 has been announced, and what better way to gear up for the New Year than adding touches of this beautiful, refreshing hue into your hallway? Here, Nick Acaster, the Managing Director at Stair Rods Direct shares his tips for introducing this highly anticipated colour scheme into your home.
Your hallway is bound to be an area with high footfall in your home, with many people coming and going every day. And, while it's not a room in its own right, sitting at the entry point of your home it is responsible for creating a good first impression for guests. So, knowing how to decorate it will pay off.
If you're thinking about giving your home a refresh ahead of the New Year, why not try incorporating Dulux's Colour of the Year 2020, Tranquil Dawn, into your hallway? This clean, calming colour will instantly brighten up the space and warmly invite visitors in. Here, I will be sharing my tips for doing so.  
Give your walls a fresh new coat of paint
Hallways are frequently chaotic places, with shoes, bags and coats often strewn around, but introducing a calming colour like Tranquil Dawn can help to make the space feel a little less overwhelming. So, if your walls are looking a little tired, I would recommend giving them a lick of paint with Dulux's Colour of The Year 2020 to boost your interior style and refresh your home's aesthetic.
While you may want all of your walls to match, Tranquil Dawn is a muted, versatile tone that will work with many other faded hues like light grey, sky blue and pink-toned beiges. This means you could use Tranquil Dawn for an accent wall and one of these other tones for the rest of the walls without it being too much.
Pick soft-toned furniture
Tranquil Dawn is almost pastel-toned in colour, which means it'll work best with other light tones. This could mean switching any of your dark wood console tables or ottomans for oak, ash or elm version. You could even paint over your current furniture or buy ones in neutral tones.  
If you like having some decorative elements of seating in your hallway, try going for a fabric armchair in a complementary neutral tone like sand. If your space is a little too small for proper seating, you could create the look with a simple ottoman, complete with a chunky throw and decorative pillows in pastel hues. This can double up as a shoe storage box, so no more messy floors!
Add complementary metallic details
As well as working nicely with other muted tones, Tranquil Dawn complements gold beautifully. This gives you a good opportunity to add luxurious ornaments, trinkets and metallic accessories into your hallway.
As a general rule, you should avoid overdoing it as Tranquil Dawn is considered to reflect a desire for calm and have a relaxing effect. Adding too many decorative elements can take away from this and make the space look a little overwhelming, so subtlety is key when incorporating metallics.
A great way to achieve the right balance is to incorporate sporadic smaller details. For example, if you have a runner on your stairs, you can add little touches of gold with stair rods. These are available in so many designs and will add subtle style to your staircase, especially if you make use of matching door thresholds. 
Freshen up the space with plants
The refreshing vibe of Tranquil Dawn means it works well with natural decorative elements. I would recommend adding some leafy, green houseplants like ferns, fiddle-leaf figs and Areca palms. As well as adding interesting details that your guests will notice as they enter your home, many houseplants also have great benefits such as air purification and dehumidification.
You could even think about adding some jasmine or lavender to encourage beautiful, relaxing scents to fill your hallway and add to the tranquillity that Dulux's Colour of the Year aims to bring.
Introduce Dulux's Colour of The Year 2020 into your home ahead of the New Year with these four tips. Whether you choose to go all out or incorporate it more subtly, you're sure to love having this refreshing and relaxing colour in your home.
For more colour inspiration and to view our current decorating projects, check out our Projects Gallery. Also, make sure to follow us on Instagram and like our Facebook page!