Last week Chester's first 100% plant-based cafe opened! The first Jaunty Goat in Bridge Street is a very popular place, and we're sure the second Jaunty Goat in Northgate Street will be too. If you've not been yet, it's definitely worth a visit if you appreciate great coffee (and great decorating work!) – rumour has it their avocado toast is the best in town.
A high standard coffee shop requires high standard decorating…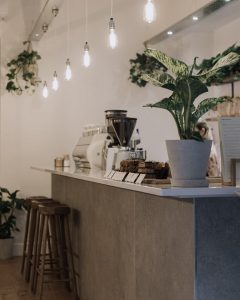 We are proud and grateful to have been chosen to decorate both Jaunty Goat in Bridge Street, as well as the brand new Jaunty Goat in Northgate Street. Decorating the two coffee shops adds to our extensive experience in commercial painting and decorating. If you visit Jaunty Goat in Bridge Street and Northgate Street, you will probably adore the Scandi style interior! Trendy, low-hanging bulbs in different sizes and shapes, lots of plants and cushions adding to the "hygge" atmosphere, natural and rustic wooden features and furniture… Needless to say, it has all has been tastefully selected and combined, and we take great pleasure and pride in providing high quality decorating work to match the high standard of the coffee shops.
So, whether you're meeting friends for that perfect cup of oat milk coffee, need a cosy spot to catch up on emails while enjoying a delicious bite to eat – we certainly recommend a visit to Jaunty Goat, whether you go fully vegan in Northgate Street or visit Jaunty Goat in Bridge Street. Although we'll have to warn you – it might make you feel inspired to get your own Scandi style at home and have your house redecorated by McDonald Painting Contractors ;-).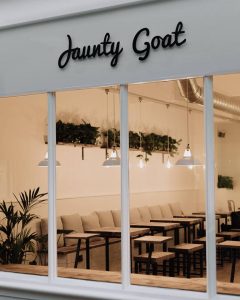 Read lots more about Chester's new vegan coffee shop here, and have a quick look at their Instagram page for inspiration.
Whether you are looking to have your living room redecorated, or have a commercial project requiring painting; get in touch with us to discuss further.
Photo credit: Jaunty Goat Coffee @jauntygoat_